2 months into my internship and i am now ready to share this post with the world. I had been thinking about writing on a freelance basis and am currently (trying my best) to covert this blog into something much more urm, "magazine-ish". I love the functionality and freedom of language and style i can use here because fuck, it's my blog and my space. I love how i can just say "fuck fuck fuck" and nobody can judge me for it (ok, not really), but you get the gist.
Most of the time, i am typing nonsense as it goes and simply upload it without cross-checking it because that would be the organic version of how i really writes and think. I know my grammar is horrendous, but let it go ~
Ok, so basically this post would be like a "guide to XXX", but since food is probably the only thing that i can photograph without the subject looking like a fool, it's probably going to be one of the most-appeared posts around here. I wish i can pull off #OOTD and writes something about fashion but nope, my body shrivels like an awkward turtle when i have the camera pointed at me.
So back to this post! When i started my internship 1.5 months ago - i have zero ideas on where and what to eat. Granted, i have a few friends working at KPMG and Deloitte to bring me around but really, there are so many people out there who are alone and aren't as lucky as me.
I did try to google and all, but i find that most guides are either categorized into a certain theme "Salad shops, XXX etc" with stalls from other areas of SG, or it's just messy.
So here is my personal version (all tried and tested -- with ratings!) and for every newbie out there to have a go at when you start your job later this week. (or if you are looking at this during lunch hours)
===============================================
Monday: Hup Lee Cafeteria - Sliced Fish Soup
Search for "Arcade Fish Soup" on google and you will most likely get numerous images on this store which sees long queue from 12pm - 2pm every day.
Their sliced fish is thick and 'meaty', and yet soft at the same time. The soup base can be a little spicy for some, and there's also salted veggie to add extra taste to the soup base.
Prices starts from $5, and extra $0.50 for a bowl of rice/brown rice/noodle. I like to add $1 for extra meat because i find that the default amount is too little to my liking. Queue can get extra crazy during peak hours, and seats are really limited so if you are in a big group, you might want to avoid that area during peak hours.
Nevertheless, one of my fave store around Raffles mrt!
Rating: 8/10
The Arcade,
#01-35/36 11 Collyer Quay Singapore 049317
Opening hours: 7.30am to 6.00pm (Mon-Fri)
7.30am to 2.00pm (Sat)
Closed on Sundays
Tuesday: Guzman Y Gomez
If you are craving for some Mexican food around your workplace, try here! Guzman Y Gomez recently opened a branch over at Raffles and they serve really good burritos at affordable prices.
You can simply choose their mini size because the large size is REALLY huge. The small one is enough to get me going for the day (and to keep me real full), so as much as you are tempted to get the large one - think again.
I love how the fillings mix up so well with one another - so much love for the kidney beans! The tomatoes are really fresh too, and the brown rice (yum yum yum).
Source: Yelp Au
My fave is the chicken (spicy!) w/brown rice - plus the place is air conditioned so you don't have to sweat buckets whilst gobbling down your burrito for lunch!
Rating: 8/10
30 Raffles Place Unit #B1-07
Chevron House
Singapore S039803M
Monday - Friday: 10.30am - 8.30pm
Sat & Sun: Closed
Public Holidays: Closed
Wednesday: Tong Fong Fatt Hainanese Chicken Rice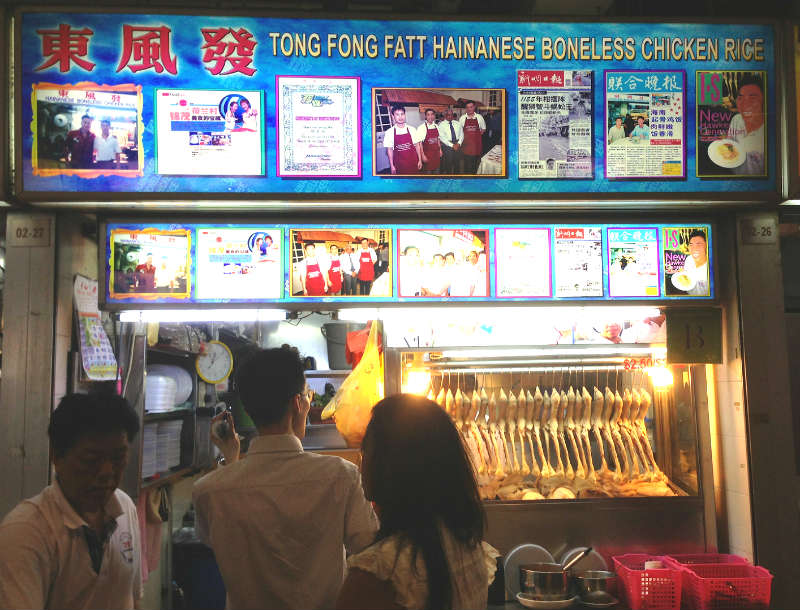 Source: http://www.eatandtravelwithus.com/
If you are a lover of Chicken rice just like me, you will probably love this as well. Located at level 2 of Golden Shoe Hawker, this store whips up good old Hainanese Chicken rice to satisfy not only your platter, but wallet as well!
Prices range from $3.50 and the meal as shown below cost me $4.50 - $5.50 if i am not wrong. I requested for drumstick and added chicken liver because the stall owner told me that it's fresh lol!
It can be a little oily for some of you, but overall, love the tangy-ness and softness of the chicken. Best part? Its boneless!
Rating: 7/10
Golden Shoe Food Centre
Level 02
Thursday: Munch Saladsmith
I chanced upon this store whilst walking back to office from Fun Toast and realized that their selection looks absolutely delicious. Its Thursday so have a treat and indulge w/o thinking for your budget!
I ordered their Chicken Thigh (it was soooo delicious!) and had 2 sides because their selection looks amazing. I had pasta and eggs (which happened to be a premium ingredient but wtf why are eggs premium when its so cheap!?)
Kinda annoyed that no one told me about this too, but ohwells. Thursday so indulgence right?
Its supposedly $9.90 for main + 1 salad/side, and $11.90 with 2 sides. Thats a good $2 so please dont choose veggies because its very #notworth
The bill for mine came up to $13.20 (too expensive for usual lunch hours tbh)
My colleague ordered their fish with potatoes and eggs, which is around $13 - $14 as well. Love their thousand island dressing (self service by the side)! I find their potatoes decent but my colleague say that she can make better potatoes so you be the judge.
But i do love my own selection very much, hence the recommendation.
Rating: 7/10
Raffles Place MRT Exchange
112 Robinson Rd, Robinson 112,
#01-01, S(068902)
Friday: Platypus Gourmet2Go / Platypus Lobster Shack
Yay -TGIF! You probably have plans to drink/have a good dinner with your friends later on so save your stomach space and grab some salad instead. If you ask around for recommendation on salad bars around Raffles, chances are your friends would mention Platypus Salad (that's what happened to me)
I can understand the huge rave for salads around CBD area because before i had an office job from 9-5, i was like you "seriously, $10 for veggie? You must be joking"
Well guess what, when your waistline starts showing, you know its not a joke anymore.
This is $9.90 and i ordered their pasta, chicken and kidney beans.
Verdict? Love it.

It might be a little pricier on the high end but trust me, you will like it. This salad bar is also famous for their lobster rolls, but i didn't order that because i'm a poor intern. #Poorgirl93 hahahaha

I went to the one over at China Square, but they apparently have one over at Golden Shoe as well. Either or, i will leave both addresses below so you can weigh the distance and lunch crowd before making a decision!

Takeaway ...?
50 Market Street, #01-14A
Golden Shoe Carpark, Singapore 048940

Eat-in / Lobster rolls
3 Pickering Street, #01-31
Nankin Row, 048660


I hope with these recommendations, you can survive your first week of internship / work and at least enjoy your orientation week before real shit happens. Hahha.

Till then!
Will be compiling a list of great food to try over at
Raffles place soon too for just $5 a meal!